What better way to officially welcome summer, then playing outside! These 10 parks in Butler County, Ohio have miles and miles of hiking trails, blooming wildflowers, an abundance of wildlife and historic stories and charm. Be one with nature, get your heart pounding on a trail or picnic with your family. No matter how you choose to enjoy Butler County parks, you'll feel relaxed and recharged!
Located in Middletown, this 11.6-acre park has a diverse landscape. The sanctuary contains the last free-flowing section of Bull's Run creek, which was the original boundary of Middletown when it was plotted in 1802. With the longest hiking trail being 1/3 mile, it's perfect for smaller children. If you're lucky you may even see a box turtle.
A visit in the spring is a beautiful sight. Over 30 species of wildflowers are in bloom late March through late May.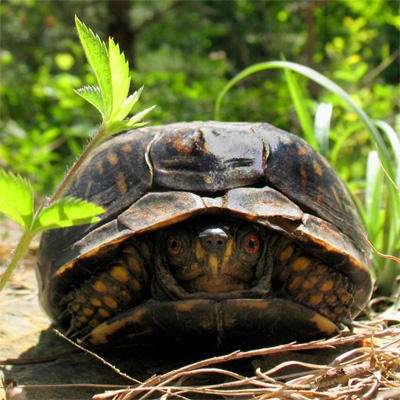 Dudley Woods MetroPark
This park in Liberty Township is a great spot for people seeking peace and tranquility. Easy nature trails wind their way through this 64-acre wooded park.
Get a feel for pioneer life by visiting the Gregory Log Cabin, home of one of Liberty Township's early pioneer families.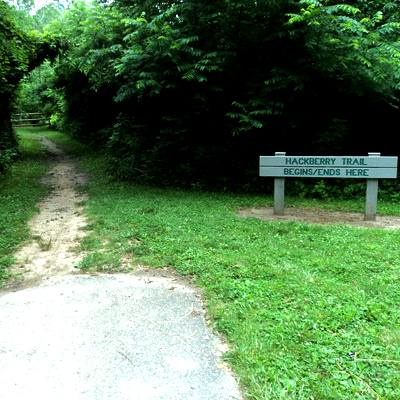 Image: mathprofhikingblog.blogspot.com
Gilmore Ponds MetroPark in Hamilton is often referred to as a nature lover's paradise. This park has an impressive wetland ecosystem, and is a popular destination for bird watchers. The Ohio Department of Natural Resources designated this park as one of its "Watchable Wildlife" viewing sites. Miles and miles of hiking trails and wetlands are ready for exploration!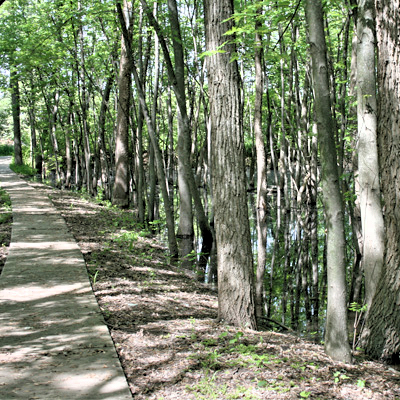 History, nature and recreation collide at this preserve in Okeana. 264-acres of woods, meadows, fields and streams can be enjoyed. The park acquired its name from William Bebb, 19th Governor of Ohio, whose 1799 birthplace cabin and boyhood home is part of the park's Pioneer Village. The Pioneer Village showcases seven authentic log cabins. Pack a picnic, go on a long hike and even spend the night stargazing and camping here.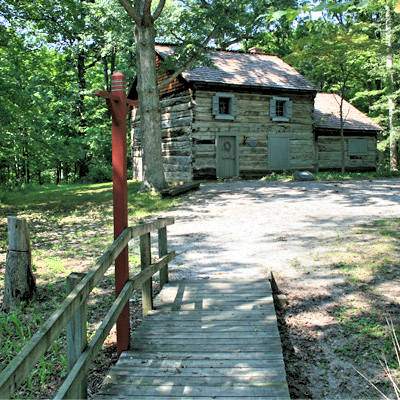 It's easy to get outside and play at this park in Fairfield. Bikers and hikers will love all the paths Harbin Park has to offer. The mountain biking trails range from easy (blue) to very difficult (orange).  Try your hand at disc golf on the 18-hole designed course. Make your way up to the park's scenic overlook for a bird's eye view of the City of Fairfield looking north into Hamilton.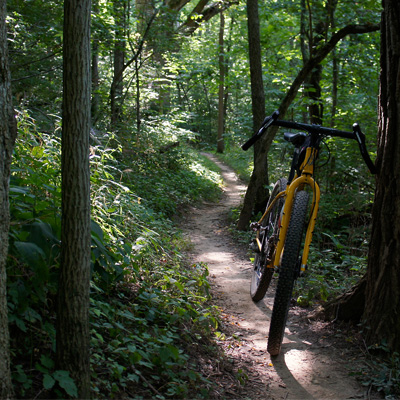 Image: outsidecincy.files.wordpress.com
The landscape of this park in Oxford is distinct and great for exploration! Roughly one mile of Indian Creek flows through the park, between heavily wooded hillsides and bluffs with rock outcroppings. The Indian Mound Trail will take you to reconstructed Native American earthwork. Directly next to Indian Creek is the Pioneer Church and Burial Ground, which serves as a resting place for some of the areas earliest settlers.
With over 400-acres and access to the Great Miami River Recreation Trail, a visit to Rentschler Forest should be on your list. Acres of woodlands, remnants of the old Miami-Erie Canal and miles of hiking trails can be navigated. Roughly a 1/2 mile of frontage is along the Great Miami River. On your visit be sure to explore the impressive prehistoric Indian earthwork site, Line Hill Mound.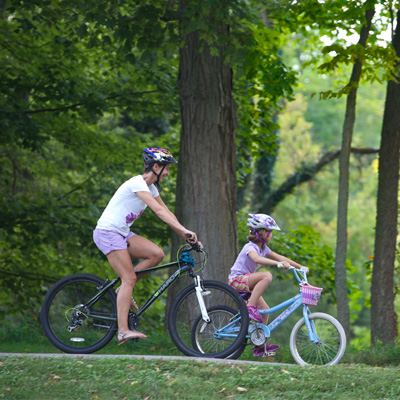 Located in West Chester, Voice of America MetroPark is fun for the entire family (including your dog!). Take a hike on a 2.5 mile scenic paved trail around VOA lake. The furry member of your family will love playing at the Wiggly Field Dog Park. In the summer grab a seat on the patio of the Ronald Reagan Lodge, and watch a concert and the sun setting over the lake.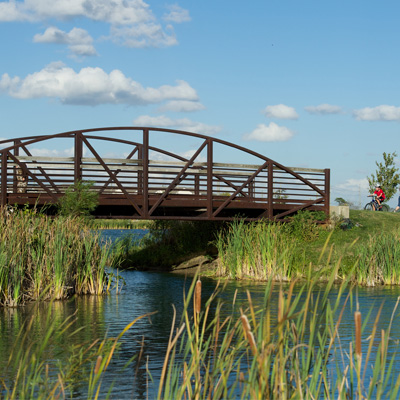 352-aces of hiking, horse trails and open lawn areas for playing outside await you at Sebald Park in Middletown. The wooded hills of the park form the walls of Creek Valley. Hiking trails sprawl through the woods and along Elk Creek, spanning the length of the park. Horseback riders will love 9.5 miles of trails designed with beginner and seasoned riders in mind.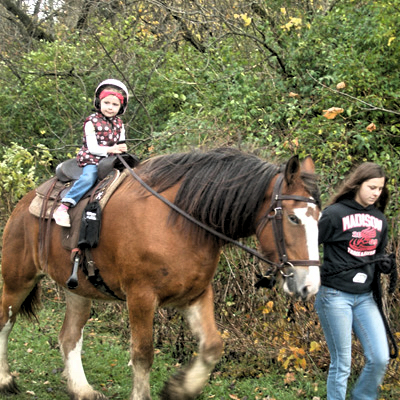 Image: MetroParks
Scenic views of the Great Miami River can be enjoyed in several areas of this park in Trenton. A mile of Elk Creek is within the park's boundaries. The park is a great combination of woods and wetlands. After a picnic and a hike at Woodsdale, don't miss the opportunity to see the Chrisholm Historic Farmstead nearby, which is listed on the National Register of Historic Places.
---