Butler County Frequently Asked Questions
Where is Butler County?
Butler County is located conveniently along I-75 in Southwestern Ohio just 20 minutes north of Cincinnati and 30 minutes south of Dayton, Ohio.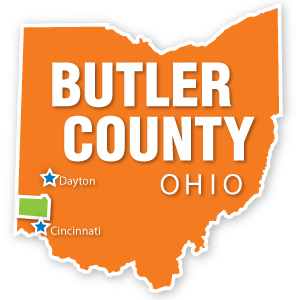 What communities are within Butler County?
Butler County has a wide range of communities ranging from urban to suburban to rural. The largest communities include Hamilton, Fairfield, West Chester Township, Oxford, Middletown, Monroe and Liberty Township.
Is Butler County a year-round destination?
Yes – Butler County is ideally located to experience all 4 seasons throughout the year. From the crisp Spring to the brilliant Fall, visitors can experience a variety of different landscapes depending upon the time of travel.
Does Butler County have easy access to airline transportation?
Yes – Butler County is conveniently located between two major international airports, Cincinnati/Northern Kentucky International Airport (CVG) and Dayton International Airport (DAY). Both airports are only a quick 45 minute drive away.
Are there lots of things to do and see in Butler County?
Yes – Butler County has one-of-a-kind attractions, a major university, a terrific arts scene and a family friendly environment.
Are there quality accommodation options in Butler County?
Yes – Butler County boasts a wide variety of trusted brand hotels across the entire area.  Many new hotels have recently opened or are under construction. Quaint Bed & Breakfast Inns are also available depending upon your lodging needs.
Are there great places to shop?
Yes – With IKEA, world-famous Jungle Jim's International Market, the Liberty Center and beautiful urban shopping districts, Butler County has become a regional shopping destination.
Are there options for dining and nightlife?
Yes – From regional favorites to cozy hideaways to local dining options and group-friendly restaurants, Butler County has you covered no matter your tastes. Check out the Liberty Center, Main Event Entertainment and Topgolf for entertainment in the evenings.
Does Butler County have a thriving arts scene?
Yes – The County is home to the City of Sculpture (Hamilton, Ohio), as well as Pyramid Hill Sculpture Park, BeauVerre Riordan Stained Glass Studios, Fitton Center for Creative Arts, Fairfield Community Arts Center and numerous arts venues featuring quality exhibits and productions.
Is Butler County a premier sports event destination?
Yes – Butler County has hosted national and world championship sporting events in recent years. With the opening of the Voice of America Sports Complex, even more top-notch event organizers have been eager to bring their events to Butler County where the experience, venues and amenities are second to none. Spooky Nook at Champion Mill will open in Summer 2021, bringing the second largest indoor sports space in the country to Ohio.