Sipping on pints of craft beer in the space that creates them is an automatic memory maker. The complexities of craft beer are counteracted by the incredibly friendly community of brewers and drinkers. Each brewery has faces with stories and passions behind their session IPAs. The breweries in Butler County were founded by hardworking dreamers. They were unafraid of pursuing what set their hearts on fire. Revel in the journeys that lead them to their lively taprooms and get to know their flagship beers.
Municipal Brew Works
Brews that Stand Out: The Approachable Blonde Ale, Orange Agave Blonde, Woltermelon Blonde, Scout IPA w/ Citrus & Mosaic Hops
Municipal Brew Works' taproom is just as dynamic and alluring as their beer profile. The five brew masters behind MBW breathed new life into a building with an immense amount of Hamilton history. In its past life, it served as the community's fire station. The art-deco exterior and outdoor patio create a vibe that inspires exploration into good beer and conversation. These brewers relish in incorporating new flavors into their beer. Their current tap list is ripe with bold additions of fresh fruit. Try the Woltermelon Blonde. It's the perfect summer refresher with delicious infusions of watermelon puree. The Orange Agave is another summer standout. Agave nectar and orange peels are infused into the Approachable Blonde Ale.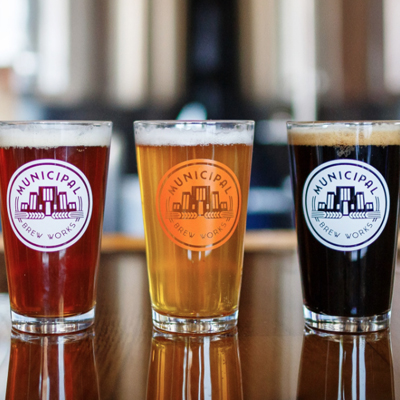 Dogberry Brewing
Brews that Standout: Zestic IPA, Brays Brown Ale, Blonde Ale
DogBerry began the craft brewery trend in Butler County. They've skyrocketed from their humble beginnings and have quickly outgrown themselves since their 2015 opening. Head brewers, Tony Meyer and Chris Frede, have upped their brewing capacity by nearly 279 gallons. Tony and Chris wear a lot of hats; both literally and figuratively. Prior to DogBerry, they were scientists and stay at home dads. Combining their chemical knowhow, people skills, and passion for crafting beer, they've created the labor of love that is DogBerry Brewing. Snag a flight and choose from 16-20 rotating taps to find your favorite local flavor. They've joined in on the hoppy takeover of craft beer with their Zestic IPA. Enjoy strong hops and a malty finish with this full-bodied IPA.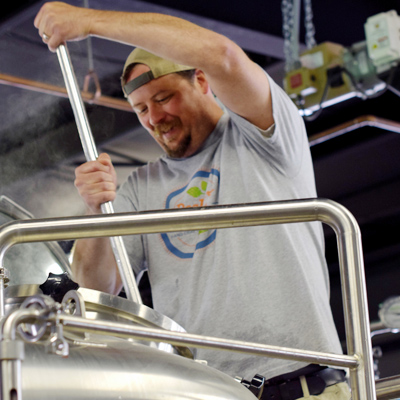 Figleaf Brewing
Brews that Standout: ISO-Trope IPA, Ponderous Porter, Basmati Cream ALE
Have a seat at FigLeaf's homemade bar crafted from reclaimed 1800s barn wood and it'll be love at first sight. FigLeaf has 20 beers on tap as well as a delicious, nitro cold brew coffee. You can't go wrong with their Core Four: Basmati Cream Ale, Pride of Cin-Day English Pale Ale, Ponderous Porter, and the ISO-Trope IPA. It's the perfect introduction into FigLeaf's stellar tap lineup. Sip on summertime and check out their (dog-friendly!) outdoor patio as well.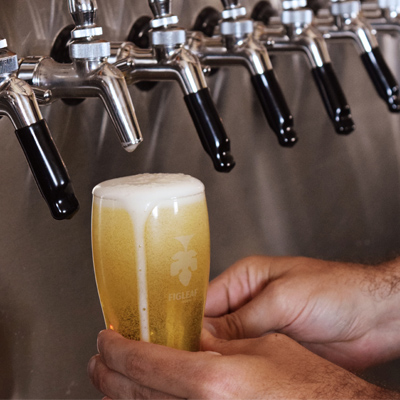 Grainworks Brewing Company
Brews that Standout: Farmer's Daughter Rye Saison, Sunrise American IPA, My Blue Heaven Blueberry Ale
Steven Brock built Grainworks upon the framework of dreams, his background in the construction industry serving him well. He spent over two years traveling the country, exploring what makes brewery culture unique and independent. After visiting over 100 breweries, he and his brew master, Brian, began to develop a clear vision for their West Chester brewery. They incorporate Butler County's brewing history into their logo. It represents the hand cranks that were used to grind the grain in pre-prohibition breweries. Their taproom omits an incredible vibe. Twinkle lights shine above, board games are available to play, and an awesome patio sits right outside. The Farmer's Daughter Rye Saison is a must-try. The rye malt adds a touch of sweet and spicy imparted by the Belgian yeast.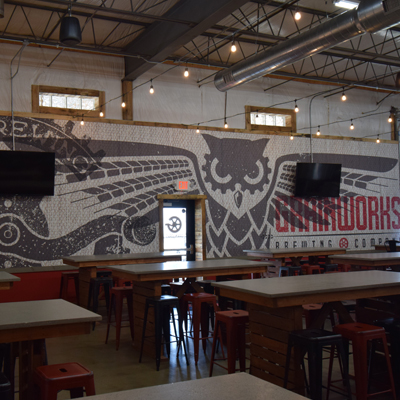 Swine City Brewing
Brews that Standout: Good Enough for Me Oatmeal Raisin Cookie Amber, Foolish Lover's Game Berliner Weisse, Drop Down Double Up IPA
Welcome to Fairfield's newest neighborhood hot spot: Swine City Brewing. Dan and Debbie Eben are Fairfield natives. They wanted to plant the brewery's roots in the town that raised them. Swine City offers curious brews in hopes to expand the average beer drinker's flavor palate. You can regularly expect to find sours, IPAs, and stouts for your sipping pleasure. Sitting at the bar provides you with a front row seat to the intricate production going on behind-the-scenes. Food trucks can often be found serving up specialties right outside.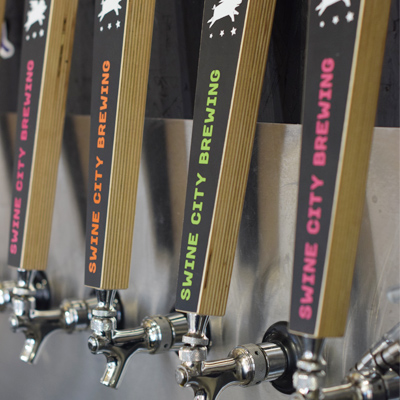 Drink local this weekend!
These brewers are continuously creating something special for craft beer first timers & connoisseurs alike.
---