A guide to ghoulish goodness; Hamilton's Most Haunted!
Hamilton has a way of embracing those who visit. Opening her arms to travelers and newcomers alike. Sharing the story of her hardworking citizens. Her streets still strongly rooted in their German heritage, and the buildings who tell the tale of her hardworking industrial past. Every city has a story you can find in textbooks and on televisions. However, cities like Hamilton, cities with an old soul and aged bones, they also hold another story. The stories told around campfires and under blankets at sleepovers. The stories of "urban legends" and of spirits not yet crossed over. Spirits who linger in their beloved cities, streets, and homes. So, in the spirit of Halloween, we're bringing you a guide to ghoulish goodness.
1.Historic Butler County Courthouse
101 High Street | Hamilton, Ohio
The Historic Butler County Courthouse that we know today has served many roles throughout Hamilton's history. Built on the same plot of land as Fort Hamilton, and the previous two courthouses in 1889, the courthouse has seen the fate of thousands of people and has survived a few disasters of its own.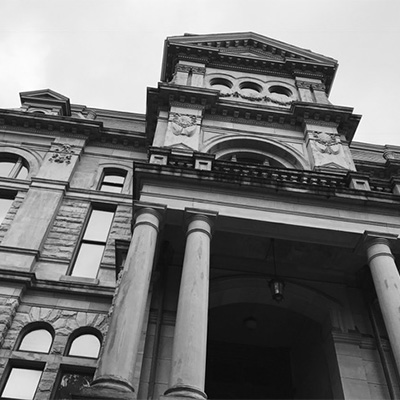 According to a local historian, a night watchman from the 1860s still keeps watch as he makes his rounds of the courthouse grounds and hallways between midnight and 1:00A.M.
Many are familiar with "The Flood" in 1913 and the devastation that followed in its wake. What they may not know is that the courthouse served as a temporary morgue for 10 days following the flood, but the stay of some wasn't so temporary...
2. The Butler County Historical Society
327 N Second Street | Hamilton, Ohio
Some crucial characters of both Hamilton and Ohio history still linger within the walls of the Butler County Historical Society, housed in the Original Benninghofen House in German Village. It is also the current residence of about 15 different spirits who, as we saw during our tour with Director, Kathy Creighton, are not shy around visitors.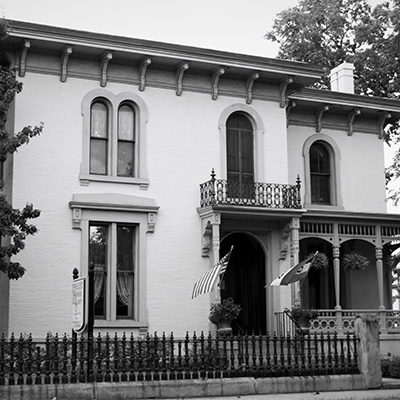 Interested in meeting John and Wilhelmina Benninghofen for yourself? They welcome small respectable crowds into their home. Feeling rather "tied" to your desk on Mondays? You're not the only one. While the historical society is not open to the public on Mondays, Hamilton's first mayor, James McBride, still toils over his work at his desk in one of the second floor bedrooms.
3. Dayton Lane
It's hard to miss the beautiful homes that once housed the men and women who helped put Hamilton on the map during the Industrial Revolution. Some are now businesses; others are still residential properties, belonging to those who are brave enough to share their space with the home's previous owners.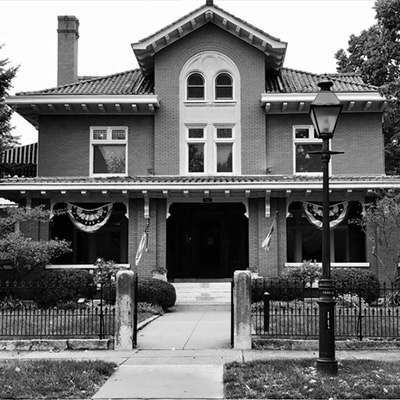 Wayne Park
Sutherland Park/ Rossville Cemetery | Park Ave at North D Street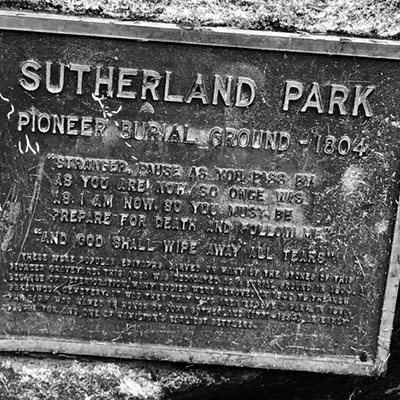 Would you take your children to a cemetery to play for the afternoon? You might be. What is now Wayne Park on Hamilton's West side was once Rossville Cemetery. By 1878 the graves of about 150 Hamilton pioneers were leveled and covered to make room for the previously named Sutherland Park - some of the grave sites being unmarked or destroyed in the process, later being unearthed by unsuspecting construction workers.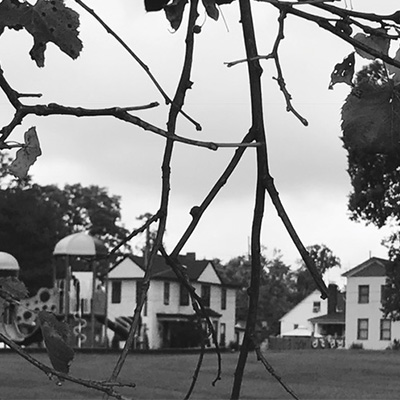 4. Butler County Fairgrounds
1715 Fairgrove Avenue | Hamilton, Ohio
Visit the fairgrounds during fair week and you'll find families enjoying time together. The sounds of children laughing and the smell of funnel cakes fills the air. But what really happens when the rides are quiet and the grounds go dark? Some say the ghost of a restless soul wanders the area surrounding the grandstand after dark on the last day of the fair. Although many have claimed to see him, more have said that if you go looking for him, you're likely to see nothing...
Did these rumored tales send chills up your spine? If you're feeling particularly brave this Halloween season take a tour of Hamilton's most haunted!
---