Load your FUNcard and PLAY! Main Event Entertainment has made its debut in West Chester, Ohio. We've scoped it out, so you can have a sneak peek at the family fun that's in your future.  Get ready to eat, bowl and play at this brand new entertainment venue.
49,000 square-feet of fun await under one roof.  Let's take a look at the awesome attractions inside!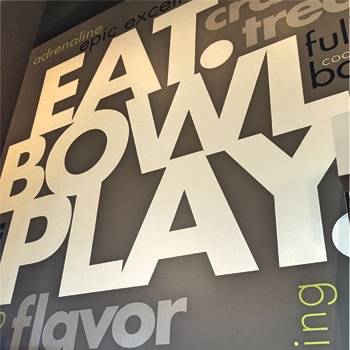 Strikes and Spares in Style
The bowling scene is vibrant yet relaxing, and full of modern amenities. Each lane has its own private and cozy seating area, perfect for watching some pin falling action. Practice your best poses, as they'll ask for a happy, sad and fun face photo.  These photos will show up in hilarious video montages on your lane.
Finished your drink, or you're ready for an appetizer? No problem!  Hit the service button on your personal lane screen and a Main Event team member will get you squared away. No more having to wait for Dad to return with the nachos to take his turn.
Little ones will love bowling with their very own dinosaur tail ramp. Let's be honest it's just as fun for the adults too! 
Fun tip: One of the best Main Event bowling perks is the ability to reserve your lane online ahead of your visit!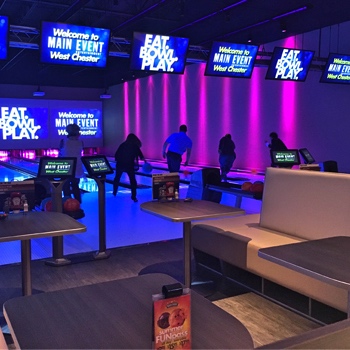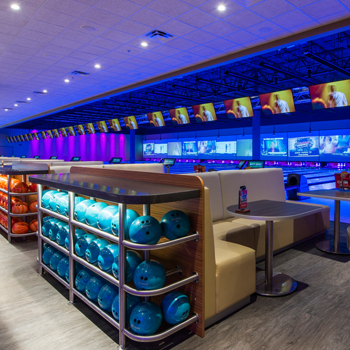 Walk the Plank
Suspend yourself high above the action of the game room on the Gravity Ropes Course. The course will have you crossing bridges, balancing on planks or even walking a tight rope. Don't be intimidated by this activity, it's great for everyone and no athletic ability is required.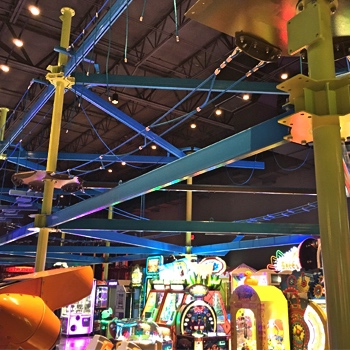 Go With the Glow
Pick your team wisely for this heart-pounding laser tag adventure. Compete for points while running around glowing pillars and passageways filled with fog, lit only by black light. This multi-level experience is perfect for blowing off steam or those seeking bragging rights.
Get Your Game On
The game gallery is filled wall to wall with the latest and greatest in virtual and interactive games. Play Ghostbusters, The Wizard of Oz, Jurassic Park and Plants Vs. Zombies just to name a few.
Looking to mix it up? Play a modern version of shuffleboard that's electronically scored or try your hand at billiards.
Play your heart out and rack up those points. A plethora of epic prizes are waiting in the Winner's Choice redemption room.
Fun Tip: Enjoy FREE Billiards from 4PM-7PM and 10PM-Close every week Sunday - Thursday.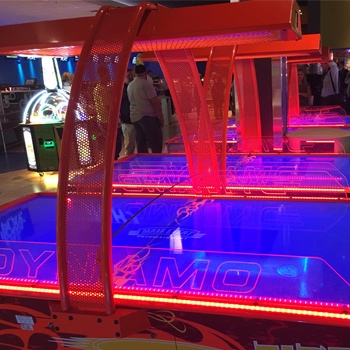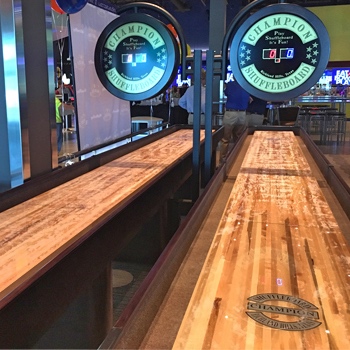 Grab a Bite
No need to get "hangry" at Main Event. No matter what you're in the mood for you'll probably find it in on the menu. Find chef-inspired casual dining, a full service bar and a comfortable seat to relax and refuel.
Don't let the Skillet Mac & Cheese pass you by. It's loaded with smoked chicken, applewood smoked bacon, layered with cheese and topped with green onions and a Cheez-It cracker crumb topping. 
Another dining offering you'll find inside is La Bella's Pizza. Grab a couple pie slices, gelato or slushes and get back to the games!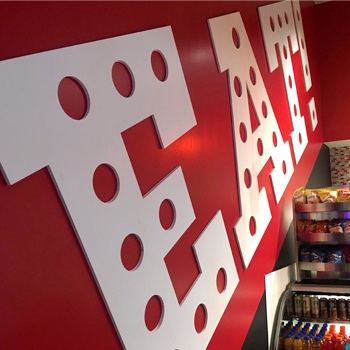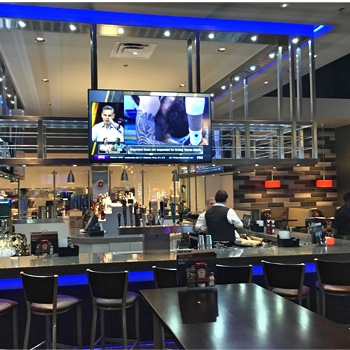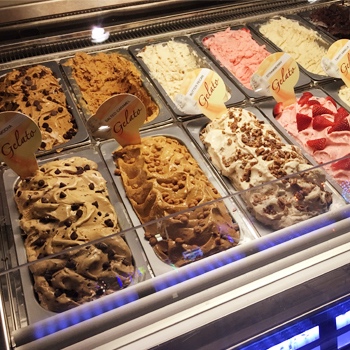 Be one of the first to check out this new all-star entertainment venue and get your game on. The hardest part will be figuring out where to swipe your FUNcard first!
---