Dog's Day Out: 10 Dog-Friendly Activities
Every adventure is more fun when you can bring your pup along!
Photo Credit : @prettypittie
Doing things with your dog makes everything more fun; especially if they can travel with you and have a ball too! From our dog-friendly attractions, to local parks, to pup-friendly patios and more— here are 10 places to explore with your favorite companion.
ACTIVITIES + ATTRACTIONS 
Pyramid Hill Sculpture Park: Explore over 300 acres and 80 monumental sculptures at this beautiful sculpture park located in Hamilton, Ohio. 
Photo Credit : @trompingwithmolly
Liberty Center: There are plenty of dog-friendly spaces and pup-friendly patios around the Liberty Center; it's also a great place to go for a walk. 
Photo Credit : Liberty Center Ohio
Holiday Auto Theatre: This local drive-in theater welcomes gentle, leashed dogs to enjoy a double feature with you.
Photo Credit : @prettypittie
PARKS + HIKING
Rentschlers Forest: If you have an active dog who loves the outdoors, this 400+ acre park is the perfect place for hiking and enjoying nature. 
Wiggly Field Dog Park: Located in the Voice of America MetroPark, this fenced-in dog park has two areas (one for large dogs and one for small dogs) offering a ton of space for your pup to have a blast.
Photo Credit : Nikki Tran Duff
Furfield Dog Park: This dog park in Fairfield is a pup-paradise; find plenty of grassy fields, a large swimming pond, and beautiful views of the Great Miami River.
Photo Credit : Furfield Dog Park
TREATS + GIFTS
The Cone: It's time for a pup cup at this popular local ice cream shop, known for their iconic orange-vanilla swirl cone.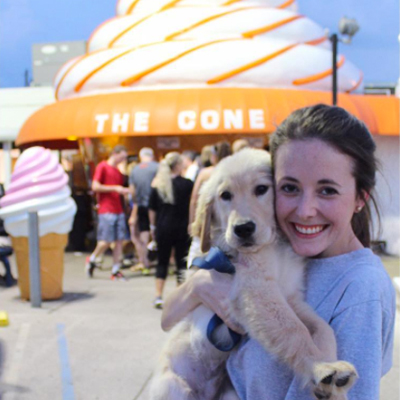 Photo Credit : Instagram @knapp_b
Pet Wants Hamilton: Shop an excellent selection of natural, nutritional food and treats, as well as a ton of different dog toys and accessories.
Photo Credit : Pet Wants Hamilton
Twist Ice Cream Company: This ice cream shop has a large outdoor seating area, making it a perfect spot for your dog to enjoy a cold treat. 
PUP-FRIENDLY PATIOS
Butler County is full of outdoor dining, ice cream shops, and local breweries with pup-friendly patios! Check out our list below. 
---
Featured Stories
Sep 20

Fall is full of bold flavors that...

Sep 18

The burgers in Butler County, Ohio are...

Sep 13

Fringe Industries serves as a re-entry...