Fall is full of bold flavors that accentuate all of the best parts of the season!
It's that glorious time of year where we finally get to embrace our scarf-wearing, pumpkin spice-loving selves. Indulge in the coffee, brews, and desserts that are making their annual autumn appearance.  
Autumn Coffee Sips
Fall Coffee Flight (pictured): Try four delicious fall inspired coffees and lattes in this one of a kind flight of coffees at State Street Coffee!
Honey Bee Latte :  Freshly brewed espresso with your choice of steamed milk, blended with local honey and cinnamon from Village Perks.
Caramel Pumpkin Chai Latte : The name just has a ring to it. This fall specialty from Triple Moon Coffee Company is a consistent crowd pleaser and can even be made as a frozen frappe! 
Walk in the Woods : a sweet fall treat— Kofenya Coffee's chai latte combined with espresso and Kahlúa flavored syrup.
Blackberry Crumble Latte : Something sweet, something different and unique from Coffee Cup Overflowing.
True West Latte & Big Papi Latte : This True West Latte is a deliciously unconventional blend of fig, vanilla, and black pepper. The Big Papi Latte is a mix of cinnamon, brown sugar, and molasses.
Fall Inspired Brews
Oktoberfest : (pictured) This traditional Bavarian Amber Lager from Grainworks Brewing begins with a rich bread crust aroma, followed by a complex biscuity and toasty maltiness. A great option for anyone who loves traditional Oktoberfest style brews.
Wildfire : DogBerry Brewing's robust IPA with Black Peppercorn & Coriander. The perfect rainy day, football watching, and flannel wearing companion. 
Good Enough For Me : This Swine City Amber ale combines notes of raisins, cinnamon and nutmeg. 
Free City Ale : Municipal Brew Works take on an amber ale mixed with a pale ale. Sweet, clean malts with a balancing dose of spicy hops, perfect for any fall day.
Sweets + Desserts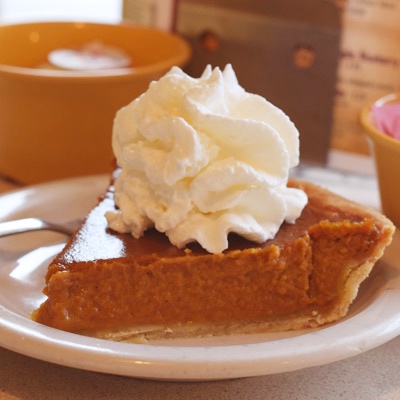 Classic Pumpkin Pie : (pictured) A staple at Hyde's Restaurant— pies have been delighting diners for 70 years. Their signature pumpkin pies are fresh baked fresh each day; you'll swoon over the filling and whipped cream topping.
Cinnamon Sugar Donut : Niederman Family Farms hosts an incredible festival each fall. An integral piece of their autumn magic is their homemade cinnamon sugar donut. 
Pumpkin Spice Cupcake : Renowned cupcakery, Molly's Cupcakes, is channeling all of the autumnal energy at their shop in Liberty Center. Knockout fall flavors like S'mores, Tiramisu, Pecan Pie, and of course Pumpkin Spice!
Fall flavors won't last long... get them before they're gone!
---