The Spicy Olive Experience
A tasting emporium for the freshest olive oils, balsamic vinegars, fine wines & more.
The Spicy Olive in West Chester is much more than an olive oil tasting room. It is an elevated shopping experience that aims to make your day, food, and health better. They've taken what some would consider a minor cooking component and turned it into something much bigger. They offer tastings for the freshest olive oils, balsamic vinegars and fine wines, as well as offering a immersive shopping experience of their products and unique gifts for any time of the year. 
Why Olive Oil?
When you first walk into The Spicy Olive, you may have an inner dialogue similar to mine, How can there possibly be this many different types of olive oil?! Between their infused, flavored, and aged olive oils and balsamic vinaigrettes, there are over 50 pour-your-own offerings at a time.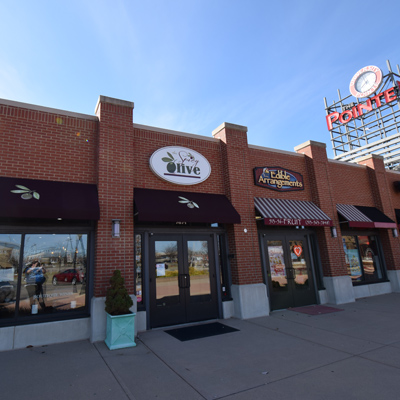 Olive oil is unique because it can only be harvested twice a year. These olive oils stay fresh for a long period of time. You'd be amazed how much better a fresh olive oil tastes than one from many seasons ago. What you may find at your local grocer could be from two to three seasons ago, while The Spicy Olive always carries fresh options from the most recent season.
There are tins of fresh olive oils and balsamic vinegars lining the walls at their store. You can taste any and all of them, and once you have sampled what you like, you can choose your bottle size and have it filled up right in front of you.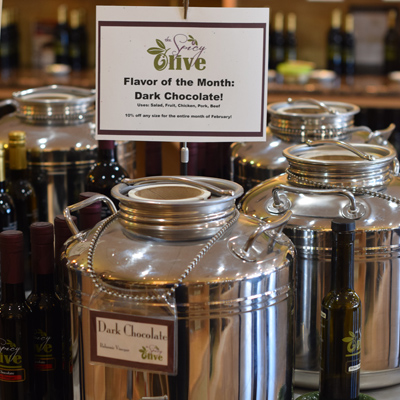 At the front of the store you'll find their featured flavors of the month! These flavors can be purchased with a discount. If you're curious about any odd flavors— like Dark Chocolate— give it a taste to find out. The staff is also very knowledgeable and can answer any questions you may have or offer recommendations.
If you head to the back of the store you will be treated to a fabulous selection of wines and craft beer. Be sure to let them know your occasion you are buying for and desired price point and the staff can help you find the perfect bottle.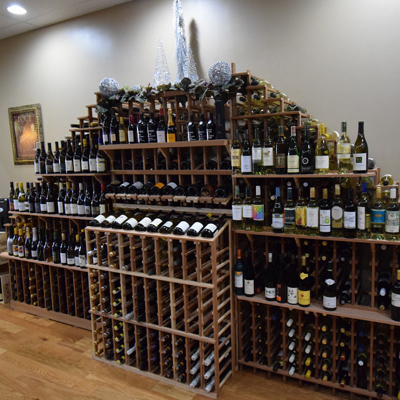 They also carry a selection of locally-made candles, handcrafted from cut wine bottles. The scents reflect popular aromas from a variety of different wines. If you bring in your own empty wine or champagne bottle from a special occasion— a wedding, graduation, anniversary, etc.— they can also have these bottles made into candles, making a beautiful memento and thoughtful gift. 
Local, Healthy, Quality Products
One of the most influential factors that inspired Melanie Cedargrento to open The Spicy Olive was the immense health benefits that come with consuming fresh olive oil. A decrease in blood pressure and inflammation throughout the body have been seen with the addition of fresh olive oil in your diet. It's a natural, tasty way to live a healthier life. 
In addition to oils and vinaigrettes, The Spicy Olive also offers other products with the same line of focus: health conscious, locally sourced, and unmatched quality. They even have a selection of olive oil beauty and home goods such as shampoo and conditioner.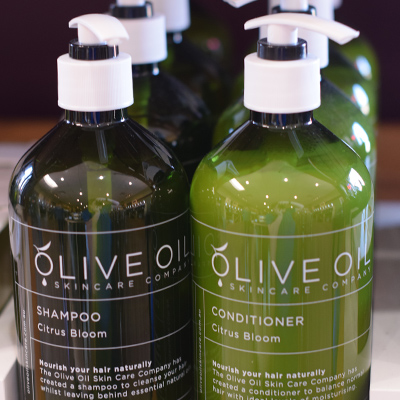 It's not all about the olives either... you'll find products that don't have olives at the core too— including local spices, seasonings, sauces, honey, and teas. 
While an olive itself can be a polarizing food item, its main byproduct of olive oil is a versatile and popular addition to any kitchen pantry. The Spicy Olive offers a wide variety of Gift Sets that include different combinations of their oils, vinegars, wines and seasonings. You can stop in the shop to browse, taste, and learn more, or you can even shop and order online! 
The 6 Pack Sampler (pictured below) is a customer favorite, because it's a complete option for the taste of Spicy Olive. It includes six bottles of their most popular olive oil and balsamic vinegar combinations.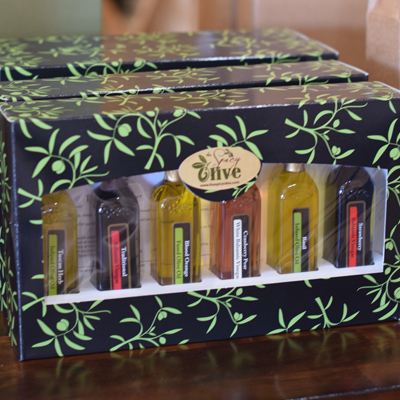 Know a foodie who loves to cook and try new things, but doesn't always know how? You can also find gift sets that are catered to certain tastes, or even curated gifts that include their own Spicy Olive Recipe. 
If you're searching for the ultimate holiday or birthday gift and known someone who loves to cook, The Spicy Olive gift baskets should be at the top of your list. The staff is always friendly and willing to help you create your own custom basket, complete with recipes and accessories, bottles of wine, your choice of oils and vinegars, and anything else you find! They also offer pre-made gift baskets that are ready to pick up whenever you go. 
 Ready to bring your cooking game to the next level? Get to The Spicy Olive to have them teach you a thing or two!
7671 Cox Ln.
West Chester, OH 45069

---