It's a strange sensation to walk into a place and feel as if you've been there before. Some refer to this experience as déjà vu, but I call it a memory drift. The simultaneous recognition of a pleasant feeling from your past and the vibe a place radiates that transports you back in time, deep into your memories. You may not always remember the place, but you remember how you felt. That's the sense I got when I walked into the best candy store in Cincinnati at Grandpa Joe's Candy Shop in Middletown. The nostalgic décor, music, and sights of the old-fashioned candy and soda flooded me with sentiment but made me grateful to be in the present.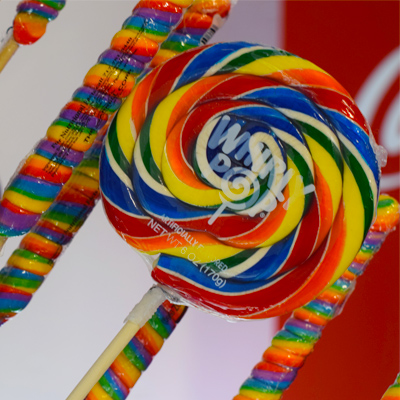 Middletown spoke to Grandpa Joe's owners, Tiffany and Bill Kelly. Captivated by the walkability of the area, strong community feel, and small business-driven streetscapes, they couldn't think of a better location for their nostalgic candy shop.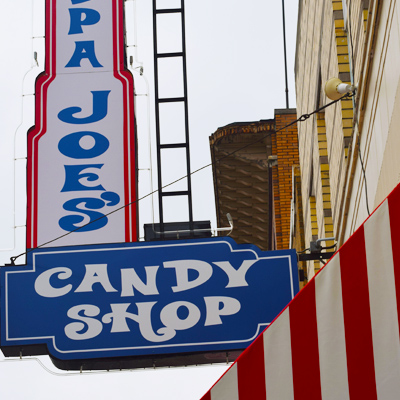 Grandpa Joe's is truly a sweet treat goldmine and the perfect place for your go-to candy store in Cincinnati. Enticing, diverse, and rare confections wait to be devoured around every corner. Make the most of your sugar rush by indulging in one (or better yet, all five) don't miss treats at Grandpa Joe's!
1. $5 Candy Buffet
Talented in the art of stuffing your suitcase to the brim when you travel? This skill will translate nicely to Grandpa Joe's candy buffet. Employees will hand you the designated candy vessel and you are encouraged to stuff as much candy as you can possibly fit into the box for only $5! As long as it shuts, the candy is all yours.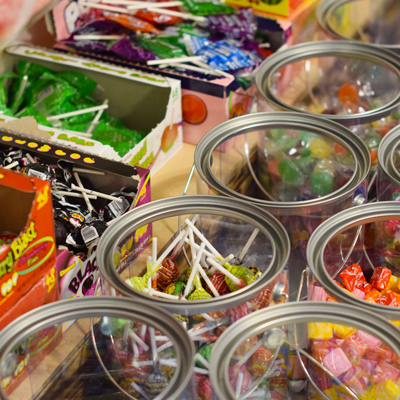 2. Sentimental Sodas
Grandpa Joe's glass bottle soda selection is beyond impressive. With over 200 unique, wacky, and nostalgic flavors to choose from, you'll feel compelled to try something off the beaten path. Tiffany recommends the MacFuddy Pepper Elixir; a dark, retro soft drink with hints of ginger and similar distinct tastes to a Dr. Pepper. The kind of fizz that makes your nose crinkle with delight after the first sip. If you're feeling particularly brave and ready for a new level of flavored carbonation, go for the Buffalo Sauce or Pickle Juice soda.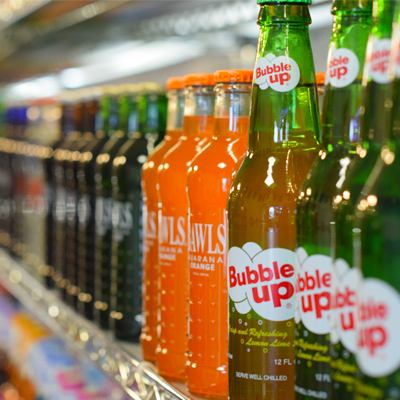 3. Ice Cream
A sugar palace would be incomplete without rich, thick scoops of ice cream in a waffle cone, and Grandpa Joe's has no shortage of it. Salted caramel and mint chocolate chip ice cream are the basis to any good day and should not just be reserved for dessert.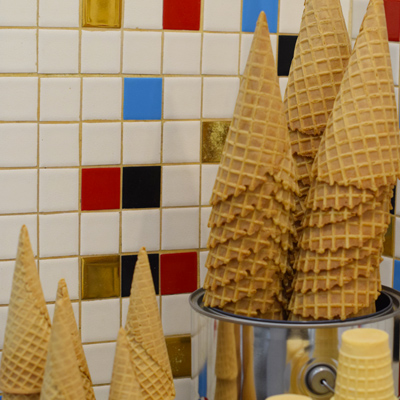 4. Donuts
A plethora of warm, fluffy donuts greet you at the entrance of Grandpa Joe's. Cake or glazed, sprinkles or nuts, whatever your flavor or texture preference, Grandpa Joe's has a made with love donut waiting just for you.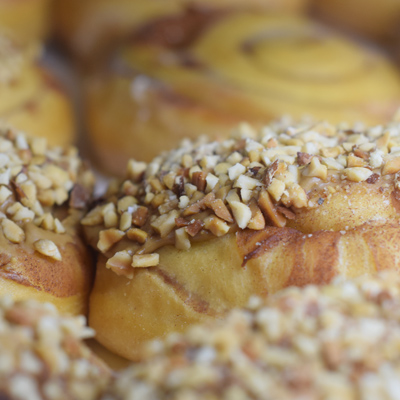 5. Homemade Truffles
A whole case of melt-in-your-mouth truffles sits smack dab in the middle of the store. A perfect post meal or afternoon snack. I would highly recommend the decadent, Chocolate Fudge Meltaways.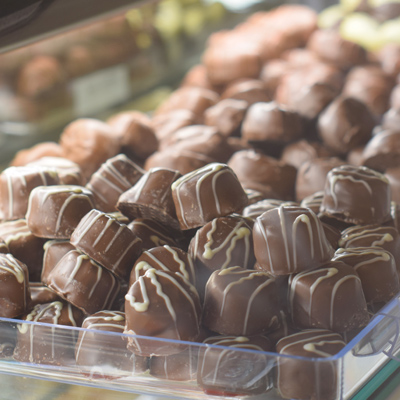 Stop in and sample your favorite candies and sweet treats of the past while enjoying the present moment with friends and family at the best candy store in Cincinnati.
1212 Central Avenue
Middletown, Ohio 45044
---