Discover the Fitton Center for Creative Arts!
Forget your pre-conceived notions about the arts,museums, and exhibitions... the creative arts are reimagined at this Hamilton arts hub. The Fitton Center is home to live music, theatre performances, exhibitions and classes that have the power to inspire all of us.  
The Fitton Experience
Located in Hamilton— also known as the City of Sculpture— the Fitton Center offers an easily accessible arts experience. They aim to provide artistic, musical, educational and social opportunities designed with the community in mind. The Fitton experience includes beautiful art galleries, workshops and classes, musical and theatre performances, and other creative programs. 
Their rotating art galleries are open and free to the public, with ever evolving exhibitions. Artists from around the country have proudly displayed their works here.
Located on the first floor is their Community Gallery, where 800 - 2,000 artists of all ages get the opportunity to display their work. In these collaborative projects, the Fitton Center highlights art made in their classes and outreach programs, as well as partnering with local schools, universities, retirement villages, other organizations to celebrate talented artists all over the community.
Find out more about their current exhibitions here. 
The Fitton Center also assists in hosting annual events, festivals and community engagements including Hamilton Current (pictured below), the StreetSpark Murals program, Wings of Hope, and more. 
StreetSpark Murals
As you find your way to Fitton, keep an eye out for the StreetSpark murals all throughout the city. This public art program was brought to life by a collaboration of the Fitton Center, the City of Hamilton, and the Hamilton Community Foundation. StreetSpark adds new murals every summer, bringing new vibrancy to the city streets, as well as highlighting local artists. 
Each mural is designed and painted by local artists. These bold beauties have transformed blank downtown walls into gorgeous urban canvases.
Fitton Family Fun
There's always a wide variety of special events happening at the Fitton, but a family favorite is to kick off the weekend with Fitton Family Fridays! These shows are great for children and families of all ages. Each performance— whether it be a play, concert or comedy act— is kicked off with a complimentary kid-friendly reception prior to the show. 
Be sure to check out their website or Facebook Events page to keep updated with all of the family fun happening now and in the future. 
Go On, Get Artsy
Whether you're a seasoned artist, a beginner, or just want to discover the therapeutic nature of art... the Fitton Center has a class for you. Learn something new and have a blast with any of these laid back classes!
Artists of all ages can try drawing, painting, mosaics, yoga, pottery, photography or music classes— just to name a few. 
There's just something about the arts! They can inspire, provoke thought and well, just be something awesome to admire. This is just a small sampling of the offerings of the Fitton Center for Creative Arts. What will you find at Fitton?
101 S Monument Avenue | Hamilton, OH 45011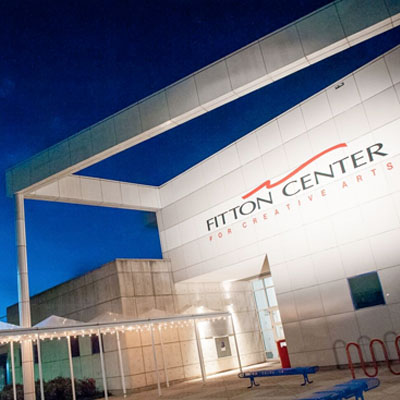 ---